* Do you need an American Sign Language Interpreter?
* Are you learning ASL as a second language and need a tutor?
* Do you have family who is Deaf or Hard of Hearing and need to learn ASL quickly?
* Are you interested in signing with your pre-verbal child months before they can speak?
Christie O'Neill has experience in each and every one of these fields, and will bring her love of American Sign Language and her knowledge of Deaf Culture gained as a certified RID interpreter to all of her classes. Her classes for parents and children also use music and videos from the Emmy-nominated PBS show Signing Time.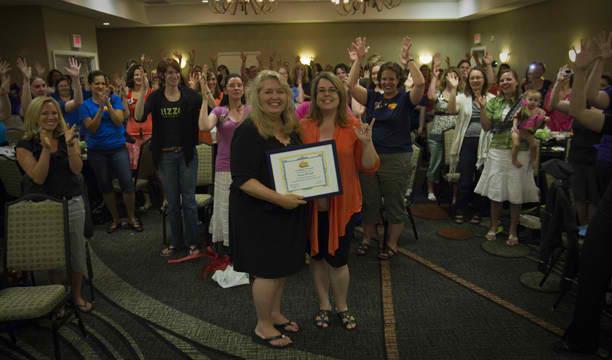 Christie earning the first-ever Signing Time Academy Instructor of the Year Award in 2011
Whatever your signing needs, Christie can help.
Please, select your area of interest from the menu above.